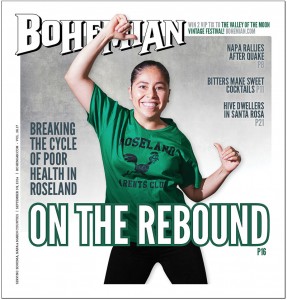 But go to a Zumba class at Roseland elementary and you'll see the success stories. One woman's depression is gone. Another has lower insulin levels. And many of the women have dropped a few pounds.

You'll see that Alejandra Sarmiento has become a community leader. Recently, she was recruited for a five-day neighborhood leadership training class through St. Joseph's. Sarmiento got a crash course in social justice, community organizing and outreach. She learned about the relationship between governmental policy and the health of communities and strategic planning. She's excited to go to neighborhood stores as a Healthy Food Project representative, where, for a stipend, she'll promote marketing and product-placement.
The second installment of my reporting project for the California Endowment Health Journalism Fellowship is on the stands today.