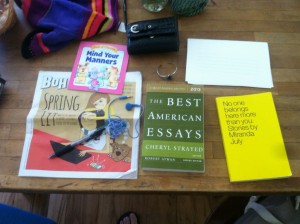 I'm super fascinated with this series by Jason Travis that documents the contents of different style makers bags. It appeals to my enjoyment of the mundane, the everyday things that make up a life (probably the same reason why I love Haruki Murakami and his descriptions of coffee-drinking and spaghetti-making in The Wind-Up Bird Chronicle).
In the same spirit, I decided to take a photo of the contents of my own bag. Well, it's one of about three different bags that I switch between, but this is my "work" bag and the only one that doesn't contain a random (unused!) diaper and hoarded tiny pieces of paper from who knows where.
My writing group met last night and my friend Jess returned a borrowed copy of No One Belongs Here More Than You by Miranda July. As she returned it, Kara and I talked about the story we always remember the most, "The Swim Team,"  where the narrator gives swim lessons in her kitchen floor, teaching her students how to breathe underwater by having them blow bubbles into bowls of water.  The copy of The Best American Essays (edited by Cheryl Strayed) is part of my grand plan to educate myself on the art of essay writing without paying for a class (I've yet to actually crack the book, but I will, dammit!) Then we've got an old Bohemian that I'm holding onto strictly out of narcissism since I wrote about Write On Mamas for this particular issue. And here is a copy of Mind Your Manners, which is ostensibly for my daughter to "read" while we're out and about, but should be at the top of my own reading list, if we're going to be totally honest.
What else? A pen that probably doesn't work, a random, pretty bracelet that I never wear, an ugly wallet that I keep meaning to replace with something more svelte, notes on an essay called Climate Change, Baby that I submitted to my writing group yesterday, a baby sweater, and earbuds that (also) probably don't work.
There ya go. What's in your bag?